Home Staging in Christchurch? – Stage it well – before you sell…
Let us enhance your property to achieve its maximum market value!
Christchurch has a competitive property market, professional staging is an essential component in achieving a successful sale.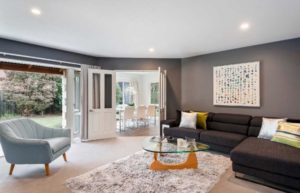 The Home Staging Company are experts at bringing your properties potential to life by using creativity and style to enhance a properties appeal to buyers.
Properties need to be presented beautifully across all media including online, print and in person during open homes in order to achieve the best price in the shortest possible time.
The reality for people looking to purchase is:
People have difficulty visualising their own furnishings within a space if it is presented empty.
Un-staged vacant homes typically take longer to sell and often sell for less than staged properties.
Without staging, any imperfections or unusual spaces are "highlighted"; which can cause buyers to focus on the issues rather than the good aspects.
Most prospective homeowners begin their property search online. A stylishly home staged property is more likely to result in potential buyers taking the next step and arranging a viewing or attending the open home.
Our Christchurch-based home staging service will transform any style of home into a property that buyers will want to make their own.
Understand our home staging process or read through commonly asked home staging questions or contact Dana on 021 343 200 for a free consultation.